Der Antike Sudan. Mitteilungen der Sudanarchäologischen Gesellschaft zu Berlin e.V. (MittSAG), Heft / Volume 28, 2017: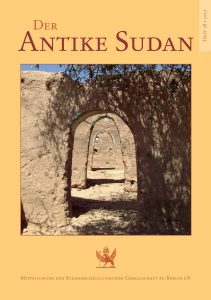 Zurück zur Übersicht / Back to the overview
Übersichtskarte
4
Editorial
5
Nachrichten aus Musawwarat
Malgorzata Daszkiewicz & Manja Wetendorf
Experimental archaeology: first steps to understanding the firing technology of Meroitic pottery from Musawwarat es-Sufra
7
Thomas Scheibner
Archäologische Untersuchungen im Hof 601 der Großen Anlage von Musawwarat es-Sufra in der Frühjahrkampagne 2017
15
Fritz-Hintze-Vorlesung
Claude Rilly
Upon Hintze's Shoulders – Today's Challenges in the Translation of Meroitic
25
Aus der Archäologie
Mohammed Alfatih Hayati
Preliminary Results about Prehistoric Sites in East of El-Obied Areas- North Kordofan State- Oct. 2015
35
Mona Akmal M. Ahmed & Aboualhassan Bakry
Prehistoric Child Burials in Sudan
47
Vlastimil Vrtal
Reconstructing the 1958–1960 excavations in the Palace of Amanishakheto at Wad Ben Naga
69
Varia
Julien Cooper
Some observations on language contact between Egyptian and the languages of Darfur and Chad
81
Alexey K. Vinogradov
Revising the Monuments of King Aspelta's Third Regnal Year
87
Ahmed Hussein Abdelrahman Adam
Museums in the Sudan: History, Current situation and challenges
103
Dieter Eigner
W.A.D.I. heute – Rezente Siedlungen im Wadi Abu Dom, Zweiter Vorbericht
115
Nachruf
Karl-Heinz Priese (1935-2017)
125
Nachruf
Inge Hofmann (1939-2016)
129
Hier gehts zur Bestellung.