Der Antike Sudan. Mitteilungen der Sudanarchäologischen Gesellschaft zu Berlin e.V. (MittSAG), Heft / Volume 29, 2018: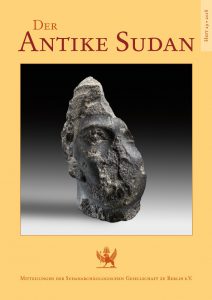 Zurück zur Übersicht / Back to the overview
Übersichtskarte
4
Editorial
5
Aus der Archäologie
Ahmed Hamid Nassr & Mirosław Masojć
The EDAR Project – Archaeological Collaboration Outcomes between the University of Al Neelain and the University of Wrocław in the Eastern Desert, Sudan
7
Hamad Mohamed Hamdeen & Paweł Lech Polkowski
Rock art in Wadi Gorgod in the Western Third Cataract Region
17
Modather Abdalla Jadain
An Archaeological Survey North of the 6th Cataract: GIS study of Sabaloka East
39
Svetlana E. Malykh
Ceramic libation basins from the Meroitic temple in Abu Erteila
59
Joanna Then-Obłuska & Barbara Wagner
Beads for Nubian monks: An interdisciplinary assessment of a Ghazali find
65
Petra Weschenfelder & Peter Becker
The fortress of Maqall – community archaeology and cultural heritage on Mograt Island, Sudan
71
Varia
Angelika Lohwasser
Das Paneel der Katimala in Semna
89
Elizabeth Eltze
Putting your best foot forward: Two votive offerings of feet at Temple T at Kawa
97
Alexey K. Vinogradov
The Gematen "Monument of Aspelta": A Destroyed Object Revisited
107
Josefine Kuckertz
Amanakhareqerema – a Meroitic King of the 1st Century AD
119
Petra Weschenfelder
Nubian place names on Mograt Island, Sudan
145
Nachruf
Rodolfo Fattovich (1945 – 2018)
149
Nachruf
Zbigniew Borcowski (1953 – 2018)
151
Hier gehts zur Bestellung.