Der Antike Sudan. Mitteilungen der Sudanarchäologischen Gesellschaft zu Berlin e.V. (MittSAG), Heft / Volume 30, 2019: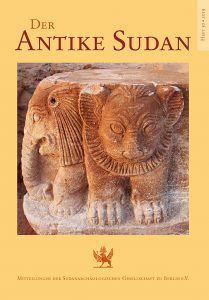 Zurück zur Übersicht / Back to the overview
Übersichtskarte
4
Editorial
5
Nachrichten aus Musawwarat
Cornelia Kleinitz
The 2016/17 field season at Musawwarat es-Sufra (Sudan): From conservation planning, applied conservation and protection measures to archaeological and social anthropological research
7
Cornelia Kleinitz
The Sudan Archaeological Collection & Archive at Humboldt-Universität zu Berlin: History, components and perspectives
35
Fritz-Hintze-Vorlesung
Vincent Rondot
From Musawwarat to Meroitic Imagery – From virtual Meroitic Museum to Encyclopaedia
61
Aus der Archäologie
Ahmed Hamid Nassr & Modather Abdallah Jadain
Archaeological investigations of the Sabaloka East Project seasons 2017 – 2018, Sudan
71
Hassan Mustafa Alkhidir
Archaeological surveys and excavations at site Jebel El-Khazna (F06) in the Fifth Cataract region, Sudan – A preliminary report
87
Mohammed Alfatih Hayati
A Test Pit at the Site of Goz El-Shor – Middle of the Gezira Reach-South of Khartoum, Sudan
103
Ladislav Varadzin, Lenka Varadzinová, Dorian Q. Fuller, Hamad Mohamed Hamdeen
Unknown hafir at Jebel Shaqadud: new evidence on water management in central Sudan
111
Mariusz Drzewiecki & Aneta Cedro
Recent research at Jebel Umm Marrahi (Khartoum Province)
117
Jana Eger & Tim Karberg
Neue Forschungen in Nord-Kordofan. Vorbericht über die Feldkampagnen des InterLINK-Projektes der Jahre 2017 und 2018
131
Jana Helmbold-Doyé
Islamische Flaschen, Näpfe und Gutran-Öl (Tar) aus dem Wadi Abu Dom
147
Ibrahim Mohamed Ahmed Ali
The Influence of Islam on Darfur Architecture
159
Varia
Mattias Karlsson
"The City of the Kipkip-Speech"? Kipkipi in Ashurbanipal's Inscriptions
175
Eleonora Kormysheva
Comparative analysis of the iconographical program of the sacred stands from the temples of Abu Erteila and Wad Ben Naga
181
Alexey K. Vinogradov
Dwarf on Bird. A curious representation of Bes
207
Nachruf
William (Bill) Yewdale Adams (1927 – 2019)
211
Nachruf
Helmar Heyken (1951 – 2018)
213
Sie können das Heft hier bestellen / you can order the volume here.