Der Antike Sudan. Mitteilungen der Sudanarchäologischen Gesellschaft zu Berlin e.V. (MittSAG), Heft / Volume 31, 2020: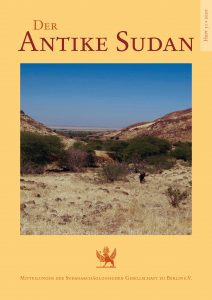 Zurück zur Übersicht / Back to the overview
Übersichtskarte
4
Editorial
5
Fritz-Hintze-Vorlesung
Tim Karberg
The Old Stonemasons' Rightful Habit. Mason's marks and their semiotics at the Great Enclosure of Musawwarat es Sufra
7
Aus der Archäologie
Friederike Jesse, Jan Kuper, Hassan Mustafa Alkhidir, with contributions by Nadine Nolde and Astrid Röpke
Prehistoric settlement south of the 5th Nile Cataract – Some results of recent archaeological work of the El Gol Project
25
Tim Karberg, Angelika Lohwasser & Laura Haupt
Das Projekt "El Rum Oasis" im Wadi Abu Dom. Vorbericht über die 1. Feldkampagne im Frühjahr 2020
49
Abdelrahman Saaid & Mohamed Bashir
The archaeology of Wadi el-Dan North of ancient Meroe: Excavations of some unusual Tumulus Graves
63
Ahmed Hamid Nassr, Yahia Fadl Tahir & Howida Mohammed Adam
El-Hamra: a Medieval Urban Settlement in the Western Desert of the Sudan Nile – El-Ga'ab Depression Excavation 2015
75
Jana Eger & Tim Karberg
Nord-Kordofan im Satellitenbild. Vorbericht über die Forschungen des InterLINK-Projektes 2020
87
Varia
Mattias Karlsson
Gender and Kushite State Ideology: The Failed Masculinity of Nimlot, Ruler of Heropolis
99
Josefine Kuckertz
Thoughts on Amesemi
109
Alexey K. Vinogradov
The Besoid Rock Carving in the High Atlas Mountains, Morocco
131
Angelika Lohwasser
Teje, Kaschta und ein Honeymoon in Luxor
141
Nachruf
Jacques Reinold (1944-2020)
145
Nachruf
Laszlo Török (1941-2020)
147
Sie können das Heft hier bestellen / you can order the volume here.