Der Antike Sudan. Mitteilungen der Sudanarchäologischen Gesellschaft zu Berlin e.V. (MittSAG), Heft / Volume 32, 2021: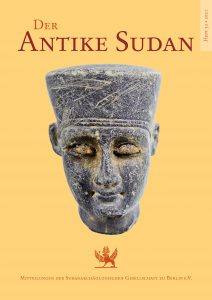 Zurück zur Übersicht / Back to the overview
In memoriam
4
Aus der Archäologie
Lenka Varadzinová, Ladislav Varadzin, Elena A. A. Garcea, Giulia D'Ercole, Jaroslav Rídký, Jon-Paul McCool, Altayeb Abdallah & Bushara Abdallah Adam
Prehistoric research in the western part of Jebel Sabaloka (spring 2019)
5
Mohamed Bashir, Sara Mamoon & Osman Khaleel
Kedurma Eastern Hinterlands in North Sudan: An archaeological Survey
29
Eleonora Kormysheva
Popular Religion – Evidence from Abu Erteila
45
Olaf E. Kaper
Berenike as a Harbour for Meroe; new evidence for Meroitic presence on the Red Sea Coast
57
Tim Karberg
Landnutzungsentwicklung und -modelle der Oase El Rum: Analyse multispektraler und SAR-Satellitenaufnahmen im Kontext raumbezogener Surveydaten
69
Nuha Abdel Hafiz Abdel Aziz
Preliminary Report on the Archaeological Survey in Abu Deleig Area, first season (April 2019)
83
Jana Eger-Karberg & Tim Karberg
Wasser für Gala Abu Ahmed – Ein Paläo-Drainagesystem zwischen Jebel Nagaschusch und Wadi Howar (Sudan) im Radar-Satellitenbild
99
Julia Budka, Jessica Distefano & Cajetan Geiger
Kirchenarchitektur südlich des Dal-Kataraktes: Das Fallbeispiel der Kirche 3-L-2 in Mograkka Ost
109
Varia
Simone Petacchi
The Crown of Geb – worn by the Kings of Napata
123
Jalina Tschernig & Laura Haupt-Faria
An ancient Egyptian block statue from the Ghazali Monastery (Wadi Abu Dom)
129
Hadia Mohammed Shawgi Gamal
Distribution of wooden objects based on the finds in the Royal Cemeteries of Kush
137
Angelika Lohwasser
Aktuelle Publikationen zu Forschungen in der Ostwüste
147
Alexej K. Vinogradov
Heliodoros on Aithiopian Archers – Part 1: The Eye Shooters (Aeth. IX. 18. 5-6)
153
Sie können das Heft hier bestellen / you can order the volume here.