Der Antike Sudan. Mitteilungen der Sudanarchäologischen Gesellschaft zu Berlin e.V. (MittSAG), Heft / Volume 33, 2022: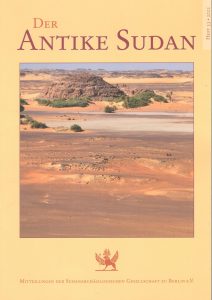 Zurück zur Übersicht / Back to the overview
In memoriam
4
Editorial

5
 
Nachrichten aus Musawwarat
Claude Rilly
Graffiti for Gods and Kings – The Meroitic secondary inscriptions of Musawwarat es Sufra: A preliminary study

7
Ulrike Nowotnick & Steven Matthews
Small Enclosure, Big Meals: Meroitic cooking in regional perspective

19
 
Aus der Archäologie
Zainab Abdalgglil Mohammed Albshir
Prehistoric animal remains from the Eastern Desert of the lower Atbara River (EDAR)

33
Julia Budka
Early New Kingdom settlement activities in the periphery of Sai Island: towards a contextualisation of fresh evidence from Attab West

45
Hadia M. Shawgi Gamal & Hanadi M. Shawgi Gamal
Wood species and their uses in the Meroitic kingdom (based on the collection of the Sudan National Museum, Khartoum)

63
Hamad Mohamed Hamdeen & Yahia Fadl Tahir
IR and ED-XRF analysis of Christian plaster and mortar from site MRB-05-001 at El Ga'ab Depression, Western Dongola

73
Varia
Alexej K. Vinogradov
On the Dwarfish Dancers' Figurines from Lisht

83
Matthias Karlsson
Taharqa, Vanquisher of the Assyrians

87
Josefine Kuckertz & Jan Moje
A Demotic ostracon from Argin mentioning Akinidad?

91
Gunnar Sperveslage
Karl Mays fiktive Reisen durch den Sudan
117
Nachruf
Steffen Wenig (1934-2022)
127
Nachruf
Hans-Åke Nordström (1933-2022)
137
Sie können das Heft hier bestellen / you can order the volume here.