Diese Seite auf Deutsch anzeigen.
Musawwarat es-Sufra was one of the main sites of the Kingdom of Kush and it is today one of the prime archaeological heritage sites of Sudan. Since 2011 it is part of the serial UNESCO World Heritage property 'Archaeological Sites of the Island of Meroe'. Musawwarat is located about 180km northeast of Khartoum and in a distance of c. 25km distance to the Nile. This remote site is situated picturesquely among low sandstone hills in the es-Sufra valley. The archaeological monuments visible today mostly date to the Early Meroitic period (c. third and second centuries BCE), making Musawwarat one of the few sites with standing architecture preserved from this time.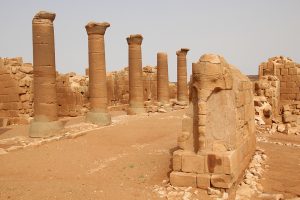 One of the main monuments of Musawwarat is the Great Enclosure, a unique building complex with three temples that are set on terraces and that are surrounded by a labyrinth of interconnected courtyards, passageways and ramps. The preservation of this extensive structure poses multifold challenges, such as regular maintenance including sand removal but also the conservation and – where necessary – the restoration of its kilometres of walls.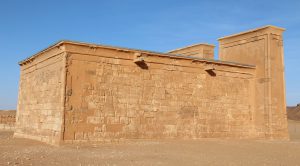 Not far from the Great Enclosure is the earliest known temple dedicated to the lion-headed god Apedemak, which was built in the late third century BCE. The temple had collapsed in antiquity and was re-erected in 1969/70 to complete the first excavation project of Humboldt-Universität zu Berlin in Musawwarat (1960-1970). The rich relief decoration of the temple is today particularly exposed to erosion.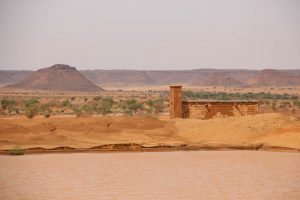 A further ancient structure at Musawwarat is the Great Hafir, a huge artificial water reservoir with a diameter of more than 200 metres that is located close to the Apedemak Temple. The Great Hafir is today acutely threatened by erosion and human-caused destruction, and its investigation, documentation and protection have been a concern.
This is why part of SAG e.V.'s financial resources goes into conservation work in Sudan. Already in 1993, a first survey was undertaken of the manifold damage to the Great Enclosure. In 1995 a large-scale clearing took place at this archaeological monument, while systematic protection as well as restoration work has been supported by the SAG since 1996. In the mid-2000s, conservation-restoration work focused on the so-called Complex 300, comprising a series of courtyards as well as Temple 300. Over several years, and with financial support from the Cultural Preservation Program of the Federal Foreign Office, collapsed walls were gradually stabilised and partially restored, sand dunes were cleared away, and water drainage was created during the rainy season.
Currently, members of the SAG e.V. are working on the presentation of Musawwarat for a Sudanese and international audience. This includes the development and implementation of a tourist infrastructure and a visitor guidance system for Musawwarat but also accompanying conservation-restoration measures. The latter are also dedicated to the unique decorated columns of the Central Terrace of the Great Enclosure.