We mourn the founder of the Sudan Archaeological Society of Berlin e.V. and long-time head of the excavations of Humboldt-Universität at Musawwarat es-Sufra, Prof. Dr. Steffen Wenig (1934–2022). With him, Sudan Archaeology lost one of its most prominent researchers. More…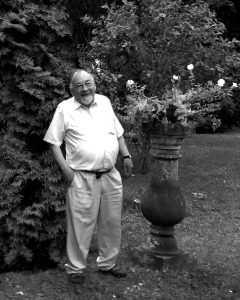 An obituary by A. Lohwasser and P. Wolf:
Steffen Wenig (15.07.1934 – 11.01.2022) studied Egyptology with Fritz Hintze and African Studies with Ernst Dammann at the Humboldt University in Berlin from 1950 to 1959. In 1958, while still a student, he was allowed to participate in the Butana expedition of the Humboldt University under the direction of Fritz Hintze in Sudan, but initially began his academic career at the Egyptian Museum in Berlin. There he was appointed curator in 1967 and deputy director in 1971. He researched and published on ancient Egyptian art, especially of the Amarna period, but his dissertation ("Untersuchungen zur Ikonographie der Darstellungen der meroitischen Königsfamilie und zu Fragen der Chronologie des Reiches von Meroe") and his habilitation ("Die Darstellungen am Löwentempel von Musawwarat es-Sufra, Untersuchungen zur Ikonographie, Inhalt und Komposition der Reliefs") were in the field of Sudanarchaeology and Meroitic studies. The exhibition "Africa in Antiquity" (1978 in Brooklyn) was conceived by him; its catalogue is still a standard work today. In 1978, Steffen Wenig moved to the Humboldt University, where he became an associate professor in 1984 and finally full professor in 1993. Between 1985 and 1990 he taught several times as a visiting professor at the University of Vienna.
Steffen Wenig's diverse and very intensive academic interests went far beyond Egyptology. At Humboldt University he specialised in Sudanarchaeology and Meroitic studies. In addition to organising international conferences, editing the series "Meroitica" and several summary works on ancient Sudan, as well as publishing many individual publications on the history, culture, architecture and art of ancient Sudan, he initiated and directed substantial field research: first in cooperation with the University of Khartoum and the Roemer-Pelizaeus-Museum Hildesheim in the ancient capital Meroe and since 1994 in continuation of Fritz Hintze's licence in Musawwarat es Sufra, where he already intensively engaged in the preservation of the antiquities – among other things by founding the "Sudanarchäologische Gesellschaft zu Berlin e. V.". In addition to his activities in Musawwarat es Sufra, where he continued to work for several years after his retirement in 1999, he became increasingly interested in archaeological research in the northern Horn of Africa since the mid-1990s. He led an archaeological survey in Qohaito (Eritrea), initiated excavations in Wuqro (Ethiopia), organised and published several international conferences dedicated to Enno Littmann and the expedition he had led to Aksum. Even in retirement, Steffen Wenig remained true to science and especially to cultural preservation. He founded the Berlin "Society for the Promotion of Museums in Ethiopia e.V.", which he chaired for several years, and published a number of academic articles on the art and culture of the still little explored Abyssinian Highlands. His scientific work and his diverse public relations activities as well as his efforts to preserve culture will continue to shape the archaeology of Northeast Africa in the future.
With Steffen Wenig, Egyptology, Sudanarchaeology and the archaeology of the northern Horn of Africa have lost an important and, above all, extremely energetic scholar. He was a combative debater, much loved by his students and colleagues, and will be sorely missed by all who knew him. Scientists around the world mourn the loss of a respected colleague and highly valued friend.
Angelika Lohwasser, Westfälische Wilhelms-Universität Münster
Pawel Wolf, Deutsches Archäologisches Institut

Obituary for Prof. Dr. Steffen Wenig (1934-2022)